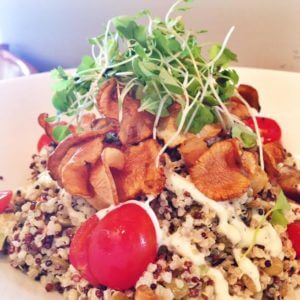 As a recent high school graduate, I now have to grapple with the fact that I'm not getting a home cooked meal again until I sell my soul the devil. This is commonly known as getting married. I have to say, a lot of the restaurants in Tampa are nothing to write home about. Fortunately for you readers, I know which restaurants are the best. That's why I made this list.
Why start a review list with any other type of restaurant than Southern? Southern food really hits the spot for me, so you guys can be certain that I would only pick the best of the best in Tampa. For each restaurant that I'll be reviewing, I'll categorize my thoughts into service, quality of food, cleanliness, and ambience. Even if a restaurant was missing just one of these, then it couldn't be considered perfect anymore, could it? And this list only contains perfect Tampa restaurants. Anyways, Cafe Dufrain does not disappoint in any sense of the word. Whether you're ordering zahtar rubbed shrimp flatbread or chilled quinoa salad, there's something for everyone on the menu.
Even vegans. My only complaint is that the parking lot can be cramped at times, but that's to be expected when your restaurant is packed 24/7. Although you wouldn't be able to guess it on the inside, because whoever designed the interior made sure that it would always appear open and roomy no matter how many people were inside.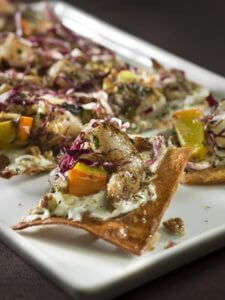 Service is first up on the list. All the staff, from the waiters to the chefs to the owner himself, are very experienced and knowledgeable in what they do. You might not think that very much thought goes into waiting on tables, but you have to memorize the menu and balance your focus between each table and their needs.
As for the chefs, they know what they have to do and they get it done. I have never seen a plate get sent back to the kitchen, and even when the restaurant gets packed (which is pretty much all the time), the staff never appears to be stressed out. On multiple occasions I have asked my waiter for suggestions and he can remember what others have ordered earlierin the day. Not that I would need suggestions, because that pan seared shrimp is killer. The chicken sandwich even comes with like three other types of food in it. The chefs could just make plain food, but if they have the skills then why stop there? This brings me to the next point: food. Each dish that I have ordered was cooked to perfection, and the ingredients always taste so fresh
.If I was going to intern somewhere, I would probably try to do it in Cafe Dufrain's kitchen and steal their secret recipe for the amazing appetizers. Appetizing is one word that definitely applies to the food here. As for cleanliness, the tables are always being cleaned as people leave. I've been eating at Cafe Dufrain for a couple years, and not once have I seen a dirty plate or glass served to me. All of the staff make it their sole purpose in life to make sure you enjoy your experience until you leave, and I love how much they care about what happens to me while I'm in Cafe Dufrain.
All that leaves is ambience. This restaurant is located right on the Tampa waterfront, so it's the perfect setting for a romantic date. I would assume it is, at least. Haven't had the chance to try it out. For any of you stragglers out there, make sure to check yelp's many great reviews online for Cafe Dufrain.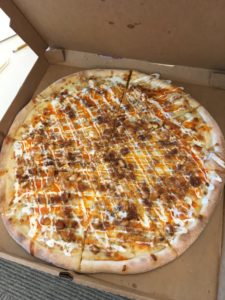 That's enough about Southern food, though. Let's shift gears into Italian food now. Due Amici Pizza is dead set on making sure that pizza is their number one priority, which is why they do it so well. This time around, you'll be eating nearby East Ybor in Tampa. Every pizza is huge, but also very affordable at the same time. Perfect place for families to eat together, and the broad range of toppings is almost limitless. Again, the service here is great. Even if the restaurant is packed, the owner just steps up his game and becomes a waiter. Speaking of the owner, I have eaten at Due Amici Pizza so many times that he sees me as a regular and knows me by name.
The best part is that he lets me peek inside the kitchen before or after I eat, so long as I don't get in the way of anybody. If you want to hear a personal about sanitation, check out this next bit. I have never seen anything dirty in that kitchen. Not the chefs' clothes, not the stainless teel countertops, not even the kitchen's exhaust hood.  I have left multiple amazing online reviews with each of my social media accounts, and I wish I could leave more to show how good the food is.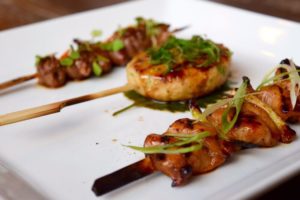 Last but not least, there's Noble Rice. Found near the Tampa waterfront as well, you'll be looking at some great scenery as you exit the restaurant. I usually overeat, so I have to order a taxi and then I'm passed out in the backseat in a food coma and missing all of the scenery. What sets this restaurant apart isn't the food, but the aesthetic. Noble Rice has some great lighting and interior decorating, which makes it a joy just to be inside of. I'd love to explain to you guys more, but that's all I can do for now. If you're still on the fence, look for my review online or just read a few of the many great reviews online. Overall, these restaurants are all very good. I look forward to writing each one of my future articles on the food.